MUSICIANS
Stepanida Borisova (Sakha/Siberia) voice
Hubl Greiner (Germany) compositions, drums, sampling, percussion
Luigi Archetti (Italy/Switzerland) compositions, guitars, guitar-effects
GUESTS
Eric Babak sampling
Tunji Beier percussion, kendan, jews harp
Anton Bruhin jews harp
DJ Rebel turntables
Jens Volk bass
Dandarvaaching Enkhjargal khootschirr, voice
Rüdiger Oppermann oppertronic electric harp, african harp
Ewald Hügle sopran sax
Paul Amrod string arrangements
Misha Maltsev nature-sounds from Taiga, Martin Redlitz didgeridoo
Martin Redlitz, Didgeridoo
Harry Raiser translator
Claudia Knupfer Cover Design
PRESS
"It's mystical, it's modern, it's low beat danceable, it sounds sacred and at the same time sounds urban.... it's great!!!" (DJ Tonyy Sao Paulo).
"The music of Sakha (Yakutia) originates 3000 Years before Christ. It has relations with Sankrit music from India , which is thought of as one of the earliest musics of this earth." (P. Amrod/N.Y.C.)
"THROAT SONGS OF THE SIBERIAN SHAMAN - This is a unique opportunity to gain some insight into this ancient and powerful means of vocal expression and to receive training from a performer of renown in both the folk and theatre worlds." THROA
STEPANIDA BORISOVA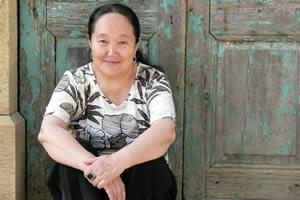 Stepanida Borisova was born in Megino-Khangalaas in Yakutia (it´s called Sakha today), which is in the most northwest part of Russia. Educated in the renowned Shepjin Theater School in Moscow, she was awarded the Ojunsjki Prize. Today she is a highly celebrated actress and singer in Russia.
She has mastered many various stylistic directions of the traditional Yakutian vocal music, which are rooted in Shamanism. The shamans have, with their knowledge, actualized the past and brought it to memory with their singing. In Stepanidas singing one feels the lost spirit of the ancients and the power of the old culture of Sakha. Their culture is as old as the stones.
HULU PROJECT
As for Stepanida as well as for the Hulu Project tradition does not mean static conservation. It can as well encompass modern tendencies in music. Both the Hulu Project and she are looking for this type of integration into their music. And therefore so it is with the CD "TranceSiberia". It was brought together from Hubl Greiner and Luigi Archetti.
These two musicians are known through other projects for testing the validity of border-setting in music. Luigi Archetti has played with, to name a few, TIERE DER NACHT, LOW TIDE DIGITALS and the Swiss Jazz legend WERNER LÜDI while Hubl Greiner was the drummer and producer with the German band THE BLECH and he has as well produced many acts and artists. To name a few Hubl Greiner has produced the Czech violinist and singer IVA BITTOVA, the Swiss band THE JELLYFISH KISS and the Austrian band DIE KNÖDEL.
TRANCESIBERIA
We are now witnessing a renaissance of tradtional art forms. These include Africa, America, and Asia. This is of high essential cultural importance, not only there but also here in Europe. The collaboration between Stepanida Borisova and the Hulu Project encompasses of broad spectrum from tradtional and mystic essays as well as ritualistic ceremonies to modern urban forms. They combine a rainbow of normally conflicting elements, native tradition and globalization. With these much constrasting worlds being blended with its inherent possibilities for conflicts in styles and philosophy they have reached fruitful horizons far beyond the expected limitations.
The questions of the distance between present and tradition, between authenticity and outside collectiveness, between individualism and collectionism were of the highest importance for the project. Hulu Project and Stepanida Borisova have developed a valid music that is in the thicket between new and ethnical music, between serious and popular music, and as well they have found an individualistic direction between all of today's existing styles including to name a few, Jazz, Rock, Art music, and World music.
Originally the songs of Yakutia were rendered to the edge of trance, and were sung in rituals as well to contact spirits or to contact the invisible world. In the heart of their performance there is voice and percussion but as well string instruments like the zither, rattles and the jewish harp.
The Yakutians see themselves as the last representation of a culture that is Pantheistic where there exists no difference between magic, music, culture, and nature. In the old dictionary of the culture there are no words even dividing these categories. Music is still described as a realistic chaos in which sounds and movements are to enter the human soul.
Text by Hubl Greiner. Parts of the text are written by Matthias Osterwold and Johannes Odenthal for the festival "Stimmen des Nordens - Spuren der Schamanen" (Haus der Kulturen der Welt, Freunde Guter Musik Berlin e.V. 1999). Translated into english by Paul Amrod.
CD DETAILS
Composed by Hubl Greiner and Luigi Archetti. Produced by Hubl Greiner. Vocals by Stepanida, lyrics by Natalia Charlamp'eva, Anna Parnikova, Platon Ojuunuskaj, A. Safronov, K. Urastyrov and trad. Sakha lyrics. Coverart by Claudia Knupfer. The CD is kindly supported by the Ojunski-State Theatre, the Minister for cultural affairs of Yakutia, GreenWave Records, Moscow and Eric Babak Musicproductions. Published by CultureWare Music Publ. and Hubl Enterprises.
DOWNLOAD ALBUM
LINKS
Lyrics TranceSiberia
Article: Shamanism and music in Siberia
Improvised Music and Siberian Shamanism by Tim Hodgkinson